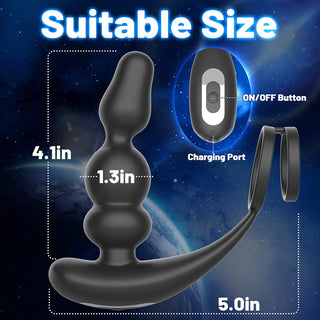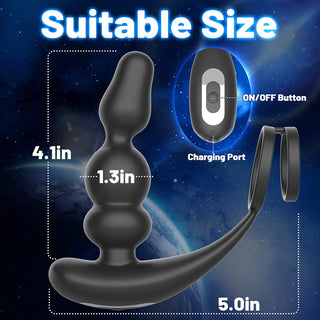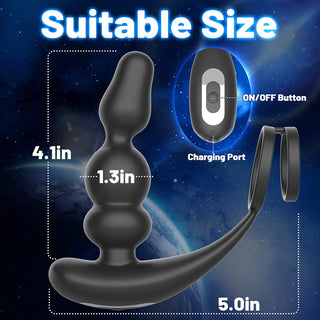 Noah 360° Rotating Dual Peins Ring Anal Vibrator With Remote Control- Laphwing
Description
Shipping Methods
A wearable anal vibrator with 6 Rotating & 10 Vibrating Modes and Remote Control
【READY FOR THE BEST TOYS OF YOUR SEX LIFE? 】For the better anal sex experience. our rotating anal plug is inserted and vibrated to find your p-spot exactly for amazing stimulation. and the addition of a double cock ring helps to simultaneously enhance erection and maintain constant arousal. The plug's graduated beads texture provides additional stimulation. It delivers intense vibrations directly to the super-sensitive nerves deep inside your rear for unparalleled pleasure.

【6 ROTATING & 10 VIBRATION MODES】Our sex toy is born for you! Anal Vibrator-Noah equiped with 6 different rotatipn modes and 10 vibrations. Do it as gentle and sensual as you like. or do full power for a quick shot! It will keeps you harder and stronger and bring you the world's most explosive male orgasm. Make sure you use plenty of water-based lubricant for better penetration and easier insert.

【ENTRY-LEVEL SM EXPERIENCE & REMOTE CONTROL】 As the master. using the remote control to instructed your sex slave to put a anal butt plug into. it can be used from up to 66 ft away. And he shuddered and knelt on the ground. waiting for your training. Open the button. the function running through the slave's body caused him to shudder.

【USB RECHARGEABLE & EASY TO CLEAN】This wearable vibrator comes with USB charging cable. charging for 90-120 mins. the using time will be 60-80 mins. And you can easily recharge it by phone charger. computer or power bank. You don't need worry about the clean. just clean it by using warm water even with some soap but it cannot be soaked for a long time.

【RISK-FREE PURCHASE & DISCREET PACKAGE】 Using discreet packaging. no one will know what's inside the box. We are very confident for our sex toy quality. and we will take responsibility for any product quality issue and provide you for perfect after-sales service. If you have any question. please feel free to contact us.