What's a dildo? 
Wikipedia explains it : a dildo is a sex toy, often explicitly phallic in appearance, intended for sexual penetration or other sexual activity during masturbation or with sex partners. Dildos can be made from a number of materials and shaped like an erect human penis.
What types of dildos are there?
There are many types of dildos on the market now. If you want to choose a dildo that suits you, you can't directly search for: dildo, because there will be various dildos that will dazzle you. You need to know exactly what type of dildo you want, so let us introduce 4 common dildos to help you.
Realistic Dildo
It looks very similar to human genitals, even lifelike. They are designed and manufactured to simulate real sensations and increase orgasm and pleasure. If you are a beginner, you can make it your first choice.
Double-Ended Dildo
It can be used between two people ,where one inserts the small sculpted end inside them and penetrates their partner with the base. If you want to solo play, bend the ends so it penetrates you in two places at once. They have length, diameter, curvature, color, texture and other characteristics to meet the preferences and needs of different people. This double-ended dildo is our internet celebrity model and is also very suitable for beginners. You can try it.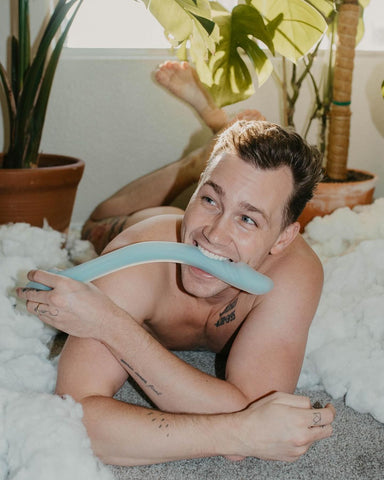 Strap-On Dildo
Strap-On Dildo: It is another form of masturbation. It is mainly used by lesbians. It is an dildo connected to the front part of the underwear, and a lesbian who plays the role of a man can have sexual intercourse with her female partner like a man after wearing it. This can give her a great sense of satisfaction in her heart.
Fantasy Dildo
Fantasy dildo: Its shape and material make it stand out from other types of dildos. From the appearance point of view, there are: horse dildos, animal dildos, dog dildos, dragon dildos, etc. And most of them have very powerful suction cups, allowing you to have ultimate fun on any flat surface. The most noteworthy thing about it is the material: they are all silicone toys, which are non-toxic, odorless, and do no harm to the body. You can use them with confidence.
Now you can choose the type of dildos you want from our website.
What are dildos made of?
There are many types of dildos, and different dildos have different functions, so the materials used to make the dildos are also different. The most common materials: silicone, TPE, internal ABS and PC plastic parts. Common silicone rubber is divided into: ordinary silicone rubber, food grade, and medical grade silicone rubber. But our fantasy dildos is "Platinum Silicone" which is widely used in the medical and food fields: non-toxic, odorless, high temperature resistant and highly stable. Look at this photo from one of our content creators , it's so beautiful and would you like to get yours now?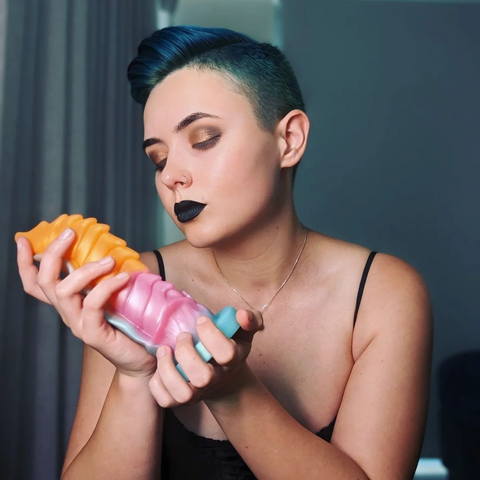 What functions does a dildo have?
Nowadays, some dildos may only differ in material and appearance, but some dildos have added many different functions. Common ones include telescopic, vibrating, heating, swinging, etc., which to a large extent can meet the needs of more people. What functions do you like in a dildo? If you want a toy with some features, you can start with our realistic dildos.
How to use dildo?
Dildos are usually used for masturbation, mainly in the anus or vagina. It's depending on your sex toy habits, maybe you also use them on the nipples? I believe you will be able to explore the many ways to enrich your sex life.